HDT5291THB-37/39/4 Concrete Pump
Condition: New
Delivery port: Qingdao or Tianjin port, China
Payment term: L/C, T/T
Guarantee period: 12 months
Delivery time: 10-15 days after received deposit
Installation time: 20days
Product Details
Best Selling Market HDT5291THB-37/39/4 Concrete Pump
Haomei concrete pump truck structure receives has on boom's fatigue life on HAOMEI's drawing on advanced experience both at home and abroad. Meantime, the company optimized hydraulic system's design, adopted latest free fluid technique, greatly lessened pumping reversal's impact on boom,and won many patents on concrete pump truck structure's optimization and hydraulic system's design. Perfect product quality control, perfect product making, and absolutely adequate quality inspection make HAOMEI pump truck achieve CHINA's leading level and international advanced level. Pump system adopts steel plates all from SWEDISH SSAB, which have been treated by high-strength coldrolling with yield strength beyond 900Mpa, to ensure boom system with high-strength and light weight. The system's aggregate carrying pipe,landing leg,and oil tank,etc. all have been treated by 100% stess removing after welding. Every welding seam has been treated by 100% nondestructive evaluation or X radial check to avoid any tiny defect and to make the machine more enduring.
HDT5291THB-37/39/4 concrete pump truck price features
pumping capacity can be infinitely variably controlled. pump truck expanding speed can be infinitely controled through quicken-slow device. Original imported GERMANY HBC wireless remote-control device with light weight and handy carrying can enable aggregate carrying pipe to take position accurately simply by manual control. boom slewing speed can be infinitely controled . it's equipped with emergency brake device and diesel engine auto-control-speed device to lower oil-consumption.original imported GERMANY STEIBEL transfer case and REXROTH pump group;original imported slewing reductor and slewing motor;original imported GERMANY HAWE proportional multiway valve;original imported GERMANY REXROTH valve and valve from ITALY oil-control companies;electric control box adopting totally imported parts while control modules like PLC are all products from GERMANY SIEMENS.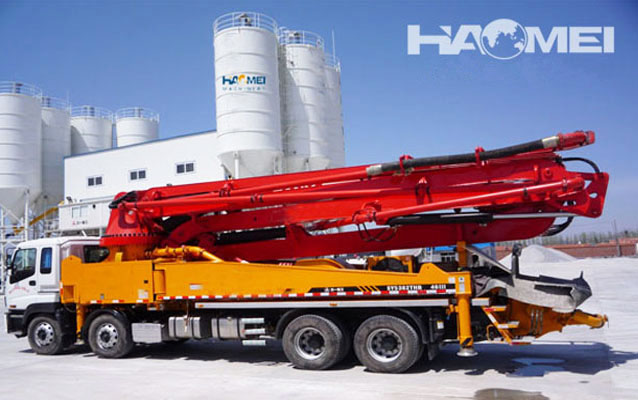 Hydraulic System Features of concrete pump machine
No fussy middle reversal control valve piece lessens reversal impact, avoids too high oil temperature and simultaneously facilitates servicing.Compared with large-oil-tank open system, closed system needs a smaller tank and the tank oil liquid flows gently with no easy emulsifying;Unique buffer technology can lower the system's high-pressure peak value. In spite of high-output-flow situation, the aggregate carrying pipe vibrates little with the tail pipe steady. Electric proportional variable adjustment makes concrete output flow pour according to actual needs. Free flowing closed hydraulic driving system formed by double pump confluency has such advantages as large output power with small wearing, and smooth reversal with no impact.Intelligent control system makes driving oil flow incessantly and directly enter driving oil cylinder without any loss.
Technial parameters of mini concrete pump
| Specification | Value |
| --- | --- |
| output in theory(m3/h) | 125 |
| index of the pump carry capacity(Mpa.m3/h) | 586 |
| theoretic pumping pressure(Mpa) | 8.5 |
| bucket volume(L) | 700 |
| height of top surface of bucket(mm) | 1370 |
| model of distribution valve(S) | valve |
| max. operation radius(m) | 32.6/34.7 |
| max. operation height(m) | 36.6/38.7 |
| max. operation depth(m) | 25.5/27 |
| open height of boom(mm) | 8450/8830 |
| distance between front landing legs(mm ) | 7058/6800 |
| distance between rear landing legs(mm) | 6848/7000 |
| distance between front & rear landing legs(mm) | 6790/7432 |
| diameter of delivery pipe(mm) | 125 |
| length of hose pipe(m) | 4 |
| rotary range of boom | 365° |
| quantity of boom | 4 |
| rotary angle of each boom(°) | 92/180/180/270 |
| wire line control distance(m) | 33 |
| romote control distance(m) | 200 |
| max. speed(km/h) | 90 |
| min. turn radius(mm) | 8800 |
| 8800(m) | 7 |
| approach angle(°) | 16 |
| departure angle(°) | 11 |
| chassis model | HOWO ZZ5307N4647C |
| wheel base between the first & the second axle(mm) | 4600 |
| wheel base between the second & the third axle(mm) | 1350 |
| front tread(mm) | 2022 |
| rear tread(mm) | 1830 |
| max. engine output power(kw) | 247(2200r/min) |
| max. engine output torque(n.m) | 1350(1100-1600r/min) |
| max, gradient ability(%) | 35 |
| fuel consumption(L/100km) | 34 |
| (××)out dimension(L×W×H)mm | 12000×2490×3850/12500×2490 |
| total weightkg | 29000/12500×2490×3950 |
foam concrete pump,isuzu concrete pump truck,diesel concrete pump,boom concrete pump,cement pump machine
Leave A Message
we will suggest you the best suitable solution according to your requirement >>
Products Category
Inquiry
(Please write down the product model or any requirement)
E-mail:
Message:
 
Contact Information
E-mail:nydia@concretebatchplant24.com‍
Tel: +86-371-65621392
Fax:+86-371-86616825
Add : No.14 Waihuan Road,New strict,Zhengzhou,China