Failure of Air Circuit System of Concrete Mixing Plant(1)
Fault of Air Circuit System in Concrete Mixing Plant - Gas Source
Common sources of gas failure in the air compressor, pressure reducing valve, pipe, compressed air handling components.
(1) air compressor common failure is the check valve damage, piston ring wear serious damage to the intake valve and air filter plug.
In the air compressor automatically shut down after a few seconds, the power switch off, the hand wheel moving a large adhesive wheel, if you can easily turn a week, then check the valve is not damaged, otherwise damaged; can also be automatic pressure switch The following exhaust to determine the exhaust situation, if the compressor automatically shut down after the exhaust, until the air compressor starts again to stop, then the check valve has been damaged, need to be replaced. When the air compressor pressure rise is accompanied by slow channeling oil phenomenon, indicating that the air compressor piston ring has been seriously worn, should be replaced. When the intake valve is damaged or air filter clogging, but also make the air compressor pressure rise slowly (but there is no channeling oil phenomenon). If the suction is small, generally the air filter is dirty due to, should be cleaned or replace the filter. If the air filter is dirty, it is necessary to replace the air filter. .
(2) valve failure. Pressure adjustment is not high, often the pressure regulator spring fracture or diaphragm rupture, must be updated; pressure increases slowly, the filter is generally blocked, should be removed and cleaned.
(3) pipeline failure. Joint leakage and hose rupture can be judged by the sound of the leak site, if the accumulation of condensate in the pipeline when the ice is easy to block the gas path, should be promptly ruled out.
(4) Compressed air handling component failure. Oil and water separator filter plug, breakage, the movement of the valve is not flexible parts. Should always clean the filter, remove the sewage valve inside the oil and other impurities. Oil mist device does not drop oil, oil cup bottom of the deposition of water, oil cup seal ring damage. Should check whether the inlet air flow is lower than the fog flow, whether the leak, the oil regulator valve is blocking storms and so on.
website:
www.haomeimachinery.com
to see more information about different parts of
concrete batching plant
, and if you have more question about it, feel free to contact us, we will reply you as soon as possible.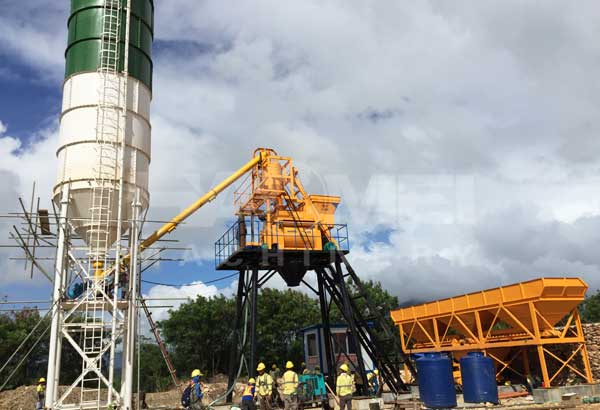 Inquiry
(Please write down the product model or any requirement)
E-mail:
Message:
 
Contact Information
E-mail:nydia@concretebatchplant24.com‍
Tel: +86-371-65621392
Fax:+86-371-86616825
Add : No.14 Waihuan Road,New strict,Zhengzhou,China