JS750 Concrete Mixer
Condition: New
Delivery port: Qingdao or Tianjin port, China
Payment term: L/C, T/T
Guarantee period: 12 months
Delivery time: 10-15 days after received deposit
Installation time: 20days
Product Details
Features of mixer


1.mixing capacity as 0.75m3
2.with twin shafts and a long working life

Characters of JS750 Made-in-China

concrete mixing machine
JS series ( Mortor Mixer )is a multi-functional mixer, which can be applied to mix dry-hard concrete, plastic concrete, light aggregate concrete and all kinds of mortar. For JS750 concrete mixing machine, it belongs to small type and it has these following characters: easy to operate and maintain, and it can also be used together with dump car, truck.
Main picture of concrete mixer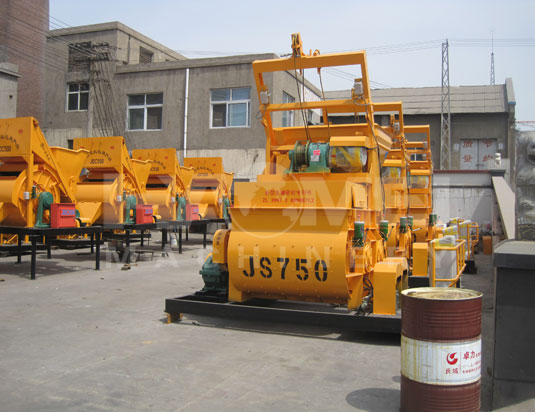 JS750 New Type Bridge using

concrete mixer
1. As a miniature double-horizontal-shaft forced type concrete mixer, this concrete mixing machine features short mixing time, good homogeneity and reliable operation.
2. Shaft tip is sealed by floating-ring, which is reliable and easy to maintain and replace.
3. Discharge system: Hydraulic & manual mode, drive reposefully and low noise.
4. Working condition: Road, Bridge & Precast product for factory, work independently or be used with correspond batching machine as a mini-type concrete plant.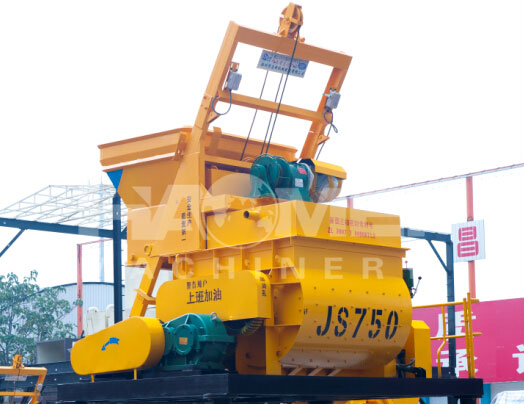 Techinal parameters:

| Specification | Value |
| --- | --- |
| Discharging Volume(L) | 750 |
| Charging Volume(L) | 1200 |
| Mixer Capacity(m3) | 0.75 |
| Lubrication System(Brand) | Choosed |
| Reducer(Brand) | Choosed |
| Aggregate Size(mm) | 60/80 |
| Aggregate Category(Quantity) | 4 |
| Working Circle(S) | 60 |
| Mixer Motor Power(KW) | 30 |
| Mixing Speed(r/min) | 30.5 |
| Mixing Blade(Quantity) | 2x8 |
| Lifting Motor Power(KW) | 7.5 |
| Pump Motor Power(KW) | 1.1 |
| Weight(KG) | 6150 |
| Dimensions(mm) | 4550x2250x2450 |
functions of concrete mix plant
Some suggestion for users of concrete mixing machine
Leave A Message
we will suggest you the best suitable solution according to your requirement >>
Products Category
Inquiry
(Please write down the product model or any requirement)
E-mail:
Message:
 
Contact Information
E-mail:nydia@concretebatchplant24.com‍
Tel: +86-371-65621392
Fax:+86-371-86616825
Add : No.14 Waihuan Road,New strict,Zhengzhou,China