Concrete pumping construction need to focus problems in summ
Construction industry, the summer is the peak of construction, the concrete pumping work, the summer construction brings greater difficulties and dangers. Take this opportunity, from the pumping equipment (including trailer concrete pumps, truck-mounted concrete pump and concrete pump truck boom started), and other maintenance and use of pouring concrete pumping construction equipment, construction in the summer need to focus on some problems.
1, the engine temperature control
With the substantial increase industrial level, it is now rarely seen because the engine itself is the problem (such as engine cylinder head gasket seal failure, commonly known as "Zi cylinder head gasket") caused by the engine "boil" problem emerged. In general, the common cause of summer overheating engine is easy maintenance is not in place, such as the thermal efficiency of the engine coolant fluid loss, or catkins in spring, Yang Hua decline caused by the heat sink attached. Solutions to such problems, mainly through the maintenance and repair work to ensure the quality and quantity of the engine coolant, cleaning the surface of the radiator and the engine cooling system to ensure the normal operation.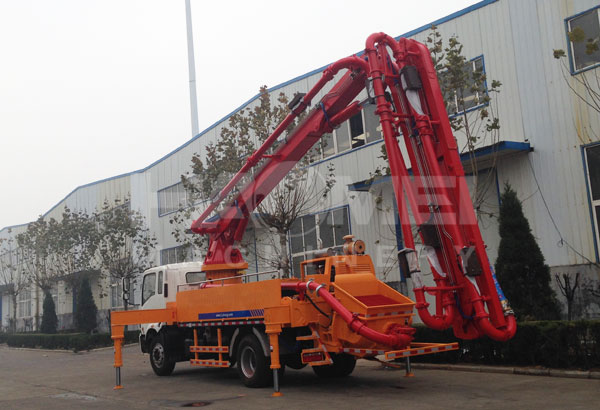 2, to prevent the hydraulic oil temperature is too high
Summer ambient temperature is close to the lower limit of the normal operating temperature of the concrete pump hydraulic system, so the work will inevitably lead to a rapid increase in the pumping hydraulic oil temperature. Temperature hydraulic oil viscosity will decrease, resulting in deterioration of the lubricating effect. At the same time, the hydraulic system components under the effect of thermal expansion and contraction tends to rise in the amount of interference, resulting in increased component wear.
3, the proper use of commodity concrete piston cooling liquid
Wash chamber pumping unit, there should be adequate piston cooling liquid. Piston cooling fluid has three main roles: Clean and lubricate the piston and the delivery cylinder; conduction through the secondary master cylinder rod to reduce hydraulic oil temperature; commodity concrete piston cooling to reduce the degree of interference between the piston and the delivery cylinder, thereby reducing piston transport between the wear of the cylinder.
4, proper use of grease
High-pressure injection lithium grease is the main means of concrete pump truck rotary member in contact with the concrete commodity lubrication. Temperatures will also make lithium grease viscosity decreased.
Summary, the "three liquid" includes an engine coolant, hydraulic oil and cooling liquid piston; "a fat" refers to the grease. Outside the regular summer maintenance work, and strengthen the "three fat was a" maintenance management, will make concrete pumps intact and utilization rate can be improved, operating costs are reduced.
Inquiry
(Please write down the product model or any requirement)
E-mail:
Message:
 
Contact Information
E-mail:nydia@concretebatchplant24.com‍
Tel: +86-371-65621392
Fax:+86-371-86616825
Add : No.14 Waihuan Road,New strict,Zhengzhou,China