How to solve the problem of concrete pump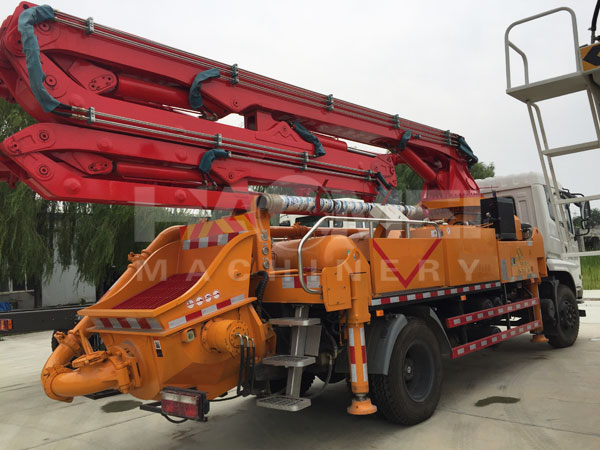 In many engineering machinery and equipment used in the process, various problems may occur, sometimes caused mechanical failures, signalling, human factors, operation and maintenance personnel to deal with problems of high speed, high quality, so as not to affect production. Haomei mixing concrete pump truck in use are summarized below in the process of common problems and solutions!
1, reduced engine speed
First, to test the output power of the engine itself, if the output power is less than the rated power of the engine, it may be the poor fuel quality, fuel pressure low, bad brakes and levers and carbon turbocharger. If the engine output power properly, you need to check for hydraulic pump flow and does not match the power output of the engine. Such failures to start electric starting system, then check the hydraulic system, and finally check the mechanical drive systems.
2, the work slowed
Mixing pump work slowed mainly because the wear of the machine causing the engine power is reduced and internal leakage of the hydraulic system. Mixing pump hydraulic pump piston pump, after a certain time, internal hydraulic components (cylinders, plunger, a nine-hole plate) inevitably generate excessive wear can cause internal leakage, the parameters according to the uncoordinated, leading to inadequate flow of high oil temperature, slow pace of work. You need the whole machine overhaul, repair replacement parts for wear and tear overrun. Mixing pump AUID (automatic idle speed), effective control of the fuel consumption and engine wear, and variable displacement pump control system, high precision, efficiency is improved!
3, solenoid valve not working
On the operator panel control solenoid valve, manual, automatic and cannot open the solenoid valve, replace pilot valve or solenoid valve coil or the action button; manual will not open, vent the exhaust on the solenoid valve, replace solenoid valve won't open manually, under solenoid valve outlet exhaust, check inside the cylinder, seals, piston rod, tighten screw whether leak;
4, belt, cylinder does not work always check idler belt run time operation, found to be transferred must be promptly replaced, not in spite of, or results in a bad belt; belt conveyor roller lubricants should be inspected regularly, added, replaced in a timely manner. Dismantling the clearing sludge within the cylinder.
5, daily maintenance of the mixing pump in order to prevent the failure of excavator, require considerable attention in the daily use of the mixing pump maintenance. And mixing pump maintenance and maintenance to be carried out in strict accordance with the operating instructions, as improper maintenance may cause damage to the seal and cause leakage or other part is damaged.
Concrete mixing pump mechanical engineering machinery and equipment with emphasis on maintenance rather than troubleshooting don't fault appeared to solve, as long as the device's manual for proper operation and regular maintenance, the probability of failure is very low.
Inquiry
(Please write down the product model or any requirement)
E-mail:
Message:
 
Contact Information
E-mail:nydia@concretebatchplant24.com‍
Tel: +86-371-65621392
Fax:+86-371-86616825
Add : No.14 Waihuan Road,New strict,Zhengzhou,China