Twin shaft forced concrete mixer
As a professional concrete equipment manufacturer, we know the importance of concrete mixer in construction. For mixing concrete efficiently, we often recommend our customer of the
twin shaft concrete mixer
. The twin shaft forced concrete mixer is mainly used for mixing various powder materials and produce a variety of powder mixing materials. It can mix the ordinary concrete, lightweight concrete and dry hard concrete, can also be used to other industry for mixing different materials. Due to the scientific and reasonable design, strict quality control and its unique structure type, double horizontal shaft concrete mixer is with advantages of high stirring efficiency, more uniform mixture, better discharge performance, easy to clean, good concrete vibrating performance and easy to pour, therefore, it is more suitable for water conservancy and hydro-power projects in the RCC pouring process.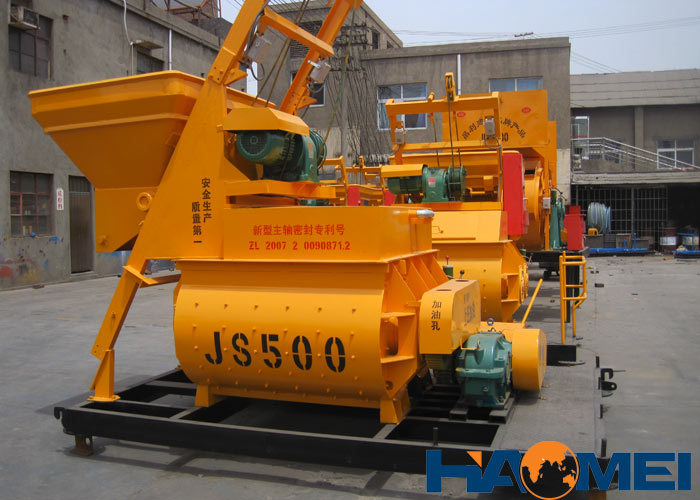 After introducing the advantages, the composition is on turn. The twin shaft forced mixer mainly composed by the chassis, screw shaft assembly, drive device, piping, cover, chain cover and other components. The chassis shell mainly composed by the plate product and steel profile, welding forming in the factory and with other components assembled together, the chassis is the support of the
twin shaft concrete mixer
. Shell is sealed tight, there will be no fly ash leakage. The screw shaft assembly is the main component of the twin shaft forced concrete mixer, its components are mainly the left and right rotation screw shaft, bearing, bearing sets, bearing covers, gears, sprockets, oil cups, blades and other parts. Haomei JS series twin shaft forced
concrete mixer
is with excellent mixing performance, shaft end sealing technology, heavy duty design, it is easy to operate and with low noise, less pollution at the same time.
Inquiry
(Please write down the product model or any requirement)
E-mail:
Message:
 
Contact Information
E-mail:nydia@concretebatchplant24.com‍
Tel: +86-371-65621392
Fax:+86-371-86616825
Add : No.14 Waihuan Road,New strict,Zhengzhou,China