HZS90 Concrete Batching PLant
Condition: New
Delivery port: Qingdao or Tianjin port, China
Payment term: L/C, T/T
Guarantee period: 12 months
Delivery time: 10-15 days after received deposit
Installation time: 20days
Product Details
HAOMEI HZS90 concrete or cement mixing plant
HZS90 concrete batching plant offers a great convenience for producing concrete with the developing new designs. And it is mainly used in urban construction sites, dedicated high-speed rail areas, high-speed dedicated concrete mixing plant and concrete mixing station project.
Technical characteristics of HZS90 concrete batching plant features
the conveyor belt, cement silo or cement tank, screw conveyor, PLD batching machine, twin shaft mixer, intelligent computer control room and other components of the measurement system.
Usage of concrete mixing plant
HZS90 concrete production line can be used in different kinds of concrete production, like the commercial concrete, water conservancy, power plants, railways, highways, tunnels, bridges, airports, construction sites and other concrete areas.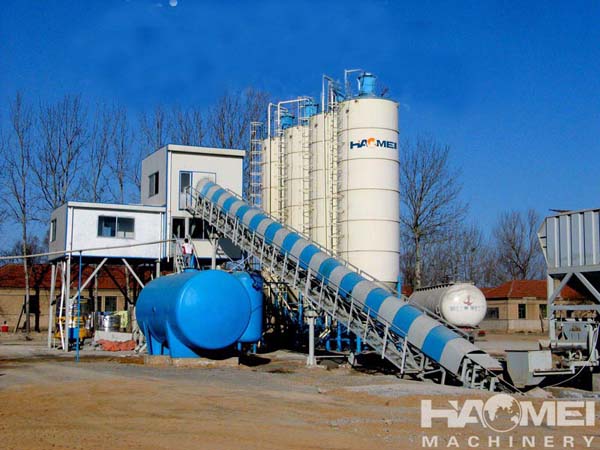 Main mixing machine for this commercial concrete batching plant
It can adopt JS twin shafts forced concrete mixer or imported mixing machine. The main machine has dust collecting machine which has features of collecting dust, dehumidification and ventilation automatically, and it can also make powder to main machine to realize the recycling process. Above the cement silo, it has a Cylinder-type dust collector with high efficiency and low noise. The raw materials of main machine is made of color pale, clean and beauty, which has a good review.
More details of parameters for HZS90 concrete batching plant
Technically speaking, HZS90 concrete batching plant has a capacity of 90m3, and adopts JS1500 forced concrete mixer as main mixer, the volume is about 1500L. For batching machine, it has capacity of 1600L. The max production capacity of screw conveyor is about 80t/h, and the maximum aggregate particle diameter is 80mm,cement weighing range and accuracy is (0 ~ 900) ± 1% kg. The additive weighing range and accuracy is (0 ~ 50) ± 1% kg. Aggregate weighing range and accuracy is of 0 × 5000 ± 2%. Discharge height of HZS90 concrete mixing station is 3.8 meters, and the height may be appropriate changes to meet the needs of the discharge conveyor.
| Specification | Value |
| --- | --- |
| Productivity in theory(m3/h) | 90 |
| Mixer | JS1500 |
| Capacity of Mixer(m3) | 1.5 |
| Mixer Power(kw) | 44 |
| Discharge Height (m) | 3.8(for customers choice) |
| Aggregate Bin (Quantity) | 4 |
| Aggregate Bin Capacity (m3) | 2.4 |
| Max. Weighing Value of Aggregate(kg) | 1300 |
| Max. Weighing Value of Cement(kg) | 1100 |
| Max. Weighing Value of Water(kg) | 500 |
| Max. Weighing Value of Additive (kg) | 40 |
| Aggregate Measuring Accuracy(%) | 2 |
| Water Measuring Accuracy(%) | 1 |
| Cement Measuring Accuracy(%) | 1 |
| Additive Measuring Accuracy(%) | 1 |
| Cement Silo | Optional |
| Cement Screw Conveyor | Optional |
| Cement Silo Capacity | Optional |
| Control Mode | Auto/Semi Control |
Leave A Message
we will suggest you the best suitable solution according to your requirement >>
Products Category
Inquiry
(Please write down the product model or any requirement)
E-mail:
Message:
 
Contact Information
E-mail:nydia@concretebatchplant24.com‍
Tel: +86-371-65621392
Fax:+86-371-86616825
Add : No.14 Waihuan Road,New strict,Zhengzhou,China